Lo Stile di Pioli
Staff member
Joined

Apr 15, 2006
Messages

32,072
Reaction score

0
Location
Fav. Players

Nesta, Maldini, Buffon, Rino*Pirlo*Clarence, Sheva, Totti, Ibra, Pippo, Giacomo, Carlo, Il Dottore
56 years old. Ex bank employee. Obsessed with tactics and details. Does not like to wear suits on the touchline. Image of being a gruff person. Chain-smoker. Spends personal time with family, gives less interviews. Free-kick specialist. An introverted intellectual. Coached 17 clubs in 20 years.
Next Milan manager?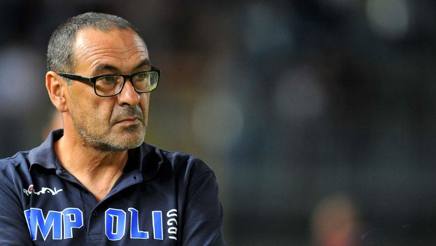 Reading what little has been written about him, he's a very intriguing character. Clearly different from the usual football coach type.
http://www.italianfootballdaily.com/schira-exclusive-maurizio-sarri-empoli/
Sarri arrived in Serie A at 55 years old, a bit late?

?There is no denying that there is some regret for the fact that he arrived so late at the top. We are talking about one of the best Italian coaches from a tactical level, he has shown this at all the ranks he has managed. From the lower divisions to Serie A, he has been involved in all the championships.?

The public is starting to get to know him only now, after the results obtained against Roma and Milan. Can you present him to us?

?Sarri is a maniac in the management of the defensive line, whereby he prefers to follow the ball and not the man. I consider him not the typical coach, but the results speak for themselves. The approach and preparation for the match is taken care of with great detail, he prepares the players for all aspects regarding their opponent

In the past, Sarri?s rough character was blamed as the primary cause of his failure to move up the ranks, is this true?

?Sarri is an extremely intelligent individual and on a cultural level superior than the average person in the world of football. A man of unique brilliance and kindness. He was considered rough around the edges because he goes on the pitch always dressed in training gear, rather than in a suit and tie like his colleagues: he is a coach more concerned about substance than his image. Football is his life. He does not give bland statements or clich?s in interviews, but tries to provide thoughts that require some reflection. Perhaps he should look at the ways of his colleagues when giving interviews but it is not his way of doing things. He prefers to let the pitch do the talking. On a human level he is a very pleasant person to listen to and from whom you can learn many things.?
This one on his obsession with freekicks:
http://www.whoscored.com/Articles/m...us-Set-Pieces-Still-Key-to-Success-in-Serie-A